Stand-up paddleboarding is one of the fastest-growing and most popular water sports in the world. If you're a novice, you'll find all the laws surrounding life jackets and PFDs challenging, and with adopting any sport, it's best to be safe. But, do you need a life jacket for paddle boarding?
The answer is a resounding yes, both in a legal sense and common sense. Laws introduced by the United States Coast Guard categorize stand-up paddleboards as vessels, making them subject to carriage requirements. One thing is certain; a life jacket vastly increases your chances of survival if you end up in difficulty on the water.
Life Jacket vs. Buoyancy Aid 
Life jackets and buoyancy aids are two different water sports equipment often used interchangeably. However, the difference is that people use the latter to help you swim if you enter the water but will not hold your face clear if you are unconscious. On the flip side, life jackets help users float face up in the water, even when injured or unconscious.
Understanding Stand-Up Paddle Board Legal Guidelines 
To ensure you're paddleboarding while complying with U.S law, you must understand that USCG legal guidelines state; When used beyond the narrow limits of a swimming, surfing, or bathing area, a SUP is considered a vessel. While state and local laws may differ slightly, the following is federal regulations:
Anyone above 12 years old must have a Type 1, 2, 3, or 5 life jacket. However, riders may not be required to wear them at all times. 


Children below the age of 12 should use USCG-approved life jackets that they must wear

at all times to ensure safety and

comfort. 


Your jacket must always be in serviceable and adequate condition. Wear and tear decrease its buoyancy and effectiveness, leading to poor performance in the water.


Your life jacket should be of the correct fit and size for best performance and safety. 


The Type 5 jacket is usable only if you follow proper USCG rules. The label on each device will indicate what application it may be used for.


If you use an inflatable belt pouch-style personal flotation device, it must be worn on your person.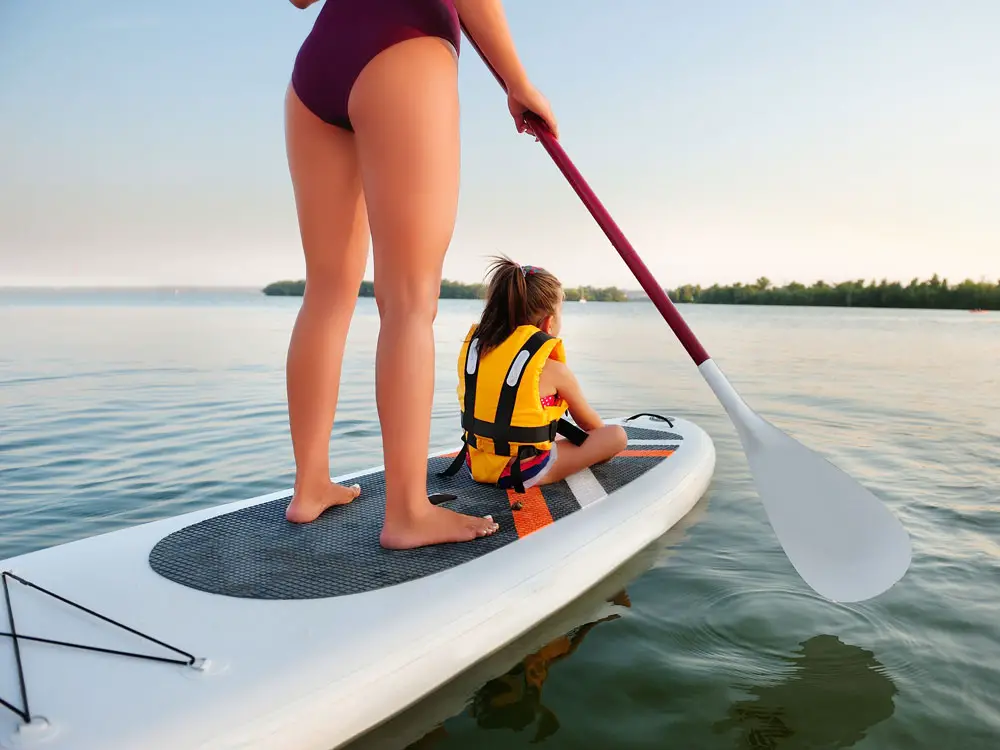 Inflatable PFD or Standard PFD?
Life jackets and PFDs come in two different types, either inflatable or standard, inherently buoyant. Both have advantages and disadvantages, suiting each paddler differently. 
Inflatable
Inflatable life jackets and PFDs generally allow for a much greater range of motion than standard PFDs. This is because they don't create buoyancy until they are activated and roll up into a small package.
Inflation can be either water-activated or manual pull cord. For water sports where you are expecting to get wet, manual activation is most popular. 
Pros
Less restrictive: The slim profile allows for a greater range of movement, which is an advantage in paddleboarding.


More ventilation: Allows you st stay much cooler on hot days compared to a standard PFD.
Cons
Single-use per session: Once they have inflated, it is quite a process to get them ready again. They will need the CO2 cartridge replacing and ideally checked by a professional.


More maintenance: Inflatable PFDs are more complicated, have moving parts, and your life may depend on them working. They should be serviced by a professional at least once a year.


No inherent buoyancy: They are useless until inflation. If you are using a manual activation inflatable PFD and get knocked unconscious, you are in serious trouble. 
Standard
Standard PFDs and life jackets are the most common type. They look like a vest and are filled with a buoyant material such as foam.
Pros
Always buoyant: If you are knocked unconscious, they will still help you float and stop you from sinking beneath the waves.


Low maintenance: No moving parts or pressurized CO2 canisters, which makes them much easier to maintain and cheaper.


Most have pockets: Great for keeping your snacks, phone, and tools in. It could be a lifesaver if you get separated from your board.
Cons
Hotter than inflatable: Creating an extra layer is something you must consider, especially during summer. Heatstroke and dehydration can be very dangerous.


Much bulkier: A standard PFD will restrict movement more than an inflatable one.
Do I Need to Register my Paddle Board? 
If you want to enjoy paddleboarding without being on the wrong footing, you must check in with your local state laws. While most states don't require registration, they do offer a list of rules you must follow. 
Apart from the following three states, no other state requires you to register before paddleboarding:
Iowa 
Minnesota
South Dakota
What are the Classifications for Life Jackets? 
Life jackets come in an extensive range of shapes and sizes to cater to everyone's unique needs. Starting from extra large to extra small, these ensure you'll find the perfect fit for yourself. 
The USGC, however, classifies life jackets into five different categories. Moreover, the law allows anyone who's 12 or over to enjoy paddleboarding in four of the following styles: 
Type 1 – Offshore Life Jacket
The most buoyant out of all PFDs, these either look like a safety demonstration life jacket used when traveling on commercial airplanes, or a large orange foam "Titanic" style life jacket. Type-1 offshore life jackets are the safest and satisfy the requirements for any classification of water. 
With a minimum buoyancy of 22 pounds, offshore life jackets come with in-built safety features such as a flashing light and whistle. In case a wearer falls unconscious, the life jacket turns them face-up. It makes them ideal for boating offshore or in rough seas, but maybe overkill and restricting movement for near-shore paddle boarders.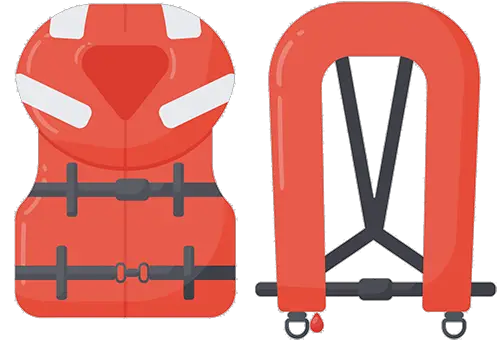 Type 2 – The Near-shore Life Jacket
As the name suggests, the second type of life jacket is typically used when the wearer is in calmer waters near the shore. Very similar to the type-1, but less buoyancy.
Unlike the first type, these feature a minimum buoyancy of 15.5 pounds, including plastic side-release buckles. It ensures the vest is snug around your waist.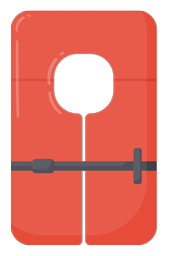 Type 3 – Floatation Aid
The go-to for most forms of watersport, the type-3 flotation aid is a popular choice with paddleboarders. Ideal for calm and near-shore activities, they are designed to allow the wearer to swim easily back to their craft. 
However, it requires the wearer to be conscious and largely uninjured. Moreover, these boast a minimum buoyancy requirement of a mere 15.5 pounds. Typically, water sports enthusiasts going waterboarding, jet skiing, or fishing opt for this PFD. 
While it's a good overall option, the flotation aid life jacket will not turn the wearer upright in an emergency. Users should only wear Type-3 PFDs under supervision or if there is no risk of being knocked unconscious.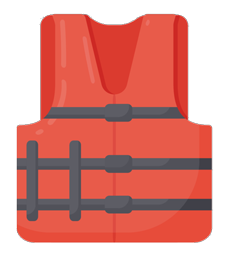 Type 4 – Throwable Device
Contrary to the other four types, throwable devices are not allowed for usage by the U.S. Coast Guidelines. Throwable devices comprise flotation rings, buoys, and cushions, i.e., objects often given to those on a cruise ship or swimming pools.
These are not for unconscious casualties or weak swimmers such as children because they must be held to be of any use. The upside of this is the absence of any minimum buoyancy requirement.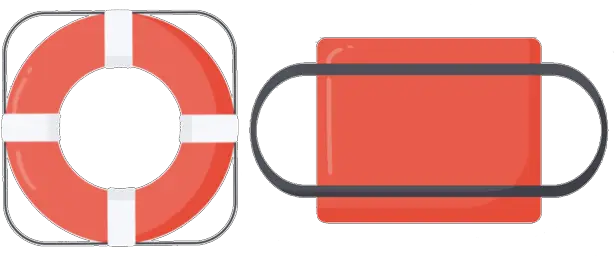 Type 5 – Specialty Use Device
USGC allows the usage of Type V jackets only if the wearer keeps it on throughout the journey. Manual inflation specialty use devices boast a buoyancy rating starting from 15.5 and stopping at 22 pounds. On the other hand, those featuring automatic inflation range from 22.5 to 34 pounds.
Moreover, an extra step towards ensuring you've chosen the right type V jacket is checking whether the label of your jacket, belt, or vest includes SUP boarding on it or not. The type-5 "belt packs" are popular with paddleboarders, allowing maximum movement and ventilation.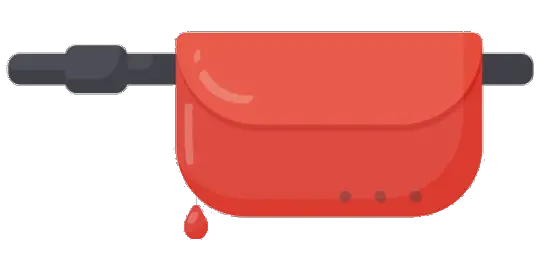 Which Life Jacket is the Best for Me? 
Despite the wide variety of life jackets available, paddleboarders typically lean towards two of the given five types. These are; type III and Type V. Belt pack type V PFDs like the Onyx Manual Inflatable Belt Pack lend themselves well to summer paddling when you are only wearing your swimsuit.
Selecting the perfect life jacket requires proper consideration to ensure you buy one that offers both comfort and safety. We recommend you try several different styles of life jackets to make sure your final purchase lets you enjoy various paddling motions. The below-mentioned tips will help you find the ideal life jacket: 
Size
It would be best if you chose a PFD that fits you perfectly. In case you purchase one that's too large, it may slide off of you. Besides, a tight one will leave you constricted and cause difficulty in breathing. 
Typically, the size specifications vary from brand to brand. Thus, make sure you get exact measurements of your body before making a purchase. Keep in mind the life jacket will be atop your clothes, and take measurements accordingly.
The standard size of PFDs for adults is as follows:
Extra small – 28 to 32-inch 
Small – 23 to 36-inch 
Medium – 36 to 40-inch 
Large – 40 to 44-inch
X-Large – 44 to 48-inch 
XX-Large – 48 to 52-inch 
XXX-Large – 52 to 56-inch
The standard size of PFD for children is as follows: 
Infant – 8 to 30 lbs
Child – 30 to 50 lbs
Youth – 50 to 90 lbs


Fit
More often than not, people confuse style with the fit. However, when it comes to purchasing a life jacket, fit, and size are two different things. While size refers to your general size measurements, the latter refers to selecting a life jacket that fits you perfectly. 
Here too, the appropriate measurement may vary from model to model. Thus, it's always a good idea to ask the owner to guide you. A couple of tips to remember when purchasing are:
Make sure your PFD isn't uncomfortable or constricted. It should feel snug. 


When trying your desired PFD, tighten it and check whether you can still perform all paddleboarding motions. 


Lastly, make sure your PFD slides neither too up nor down upon wearing. 


Style 
Last but not least, brands offer life jackets featuring different types of styling options. From vibrant color options to cute embellishments, the market is jam-packed with exciting styles. It means you can rest assured you can easily spot a vest that perfectly matches your tastes. 
So, if you're going paddleboarding, don't compromise on style! Once you select the size and fit, you can enjoy examining the multiple enticing style options.
Extra Safety Tips When Paddle Boarding 
Apart from wearing the appropriately sized life jacket, it would be best if you got your hands on several necessary types of equipment as well. Add that with expert tips, and you can relax knowing you're perfectly safe.
If you're going paddle boarding in the winter season, wear a wet or drysuit. On the flip side, using swimsuits and a rash vest in the summer is a smart idea. 


you don't want to be separated from your board. Using a high-quality leash ensures you're always connected with your paddleboard. 


Try to avoid paddling in areas busy with other water users. It will reduce the risk of collisions. 


While the idea of diving into paddleboarding is super enticing, you may end up getting injured if you don't know what the dangers are. Instead, make sure you get all the essential training before paddleboarding. 
Conclusion: Do You Need A Life Jacket For Paddle Boarding?
Yes, absolutely. But wearing a life jacket doesn't need to take away from the experience of paddle boarding. Get the right one and it will allow you to paddle with confidence.
Overall, the rules and regulations for paddle boarding aren't that challenging. A simple and thorough read will ensure you're up-to-date with the new laws. Once done checking them out, it's time to get going!