Having come a long way since it was first created by Hawaiian surfers in the 1940s, Stand Up Paddleboarding, (or SUP for short) is one of the fastest-growing watersports in the world right now!
The sport has exploded in recent years, evolving into several very different variations of the sport.
People have been propelling themselves across the water with paddles and poles for thousands of years, records have been found as far back as 3000BC documenting this practice in Asia, the Americas and Europe. However, it wasn't until the 1940s where the current iteration of the sport we see today started to appear.
A lifelong Hawaiian surfer, John "Pops" AhChoy developed age-related knee problems which was making getting up onto his board difficult. Not to be deterred he switched to standing up on his board and paddling out using a canoe oar to catch the waves. His Sons, Bobby and Leroy and their friend, the surfing legend, Duke Kahanamoku were making a living teaching surfing and running guided outrigger canoe tours for tourists. They soon realised that standing up on their boards gave them a much better vantage point to keep an eye on the novice students.
After a car accident that left Bobby unable to paddle prone or kneeling, he took the novelty skill he had been using for his business and it became his exclusive way of catching waves, thus creating the recreational sport of SUP Surfing we know today.
Throughout the rest of the 20th century stand up paddle boarding largely remained a niche in surfing and was practised by only the most diehard fans. It got its first big publicity boost in 2003 during the "Buffalo Big Board" contest and was captured by the surf media and its popularity began to skyrocket. 
Since then SUP has developed into a diverse sport with many different branches, such as SUP Yoga, Touring, Racing and more.
Why Is Stand Up Paddleboarding So Popular?
The growth of Stand Up Paddleboarding in the last few years has been nothing short of incredible! And it's now the worlds fastest-growing watersport, with an estimated 20% year on year growth in uptake of the sport. However, this massive explosion of popularity is not difficult to explain.
It's Fun! – Paddle boarding is quite simply an enjoyable activity. Whether you are SUP-ing solo or with a friend, just being outdoors on the water and in the fresh air releases endorphins such as serotonin and dopamine. It's these neurotransmitters that make you feel happy. People literally get hooked on this "runners high" after a session on the board.

 

It's Incredible Exercise – Just balancing on a SUP engages your core and leg muscles. Going for a paddle is a complete full body work out, including shoulder, back, arm, and core abdominal muscles. Nevermind the boost it gives to your cardiovascular system. There is a reason that Pro paddlers are so shredded!

 

It's Surprisingly Accessible – You don't need to live on a tropical island to go boarding and don't listen to the social media "Influencers" that say you do. These days people are getting out on lakes, rivers, reservoirs and canals. If there is a body of water, chances are someone has SUP'd it. With advances in manufacturing techniques, good quality inflatable SUPs are available from around $500, so its never been cheaper. Want to know more about the price of SUPs? Check out our Why are paddle boards so expensive?
SUP Surfing 
The sport of SUP surfing hasn't deviated much from its modern roots in Hawaii and still has all the same key ingredients. A longer surfboard, a paddle and some surf!
However, gone are the days of wooden paddles and boards. Modern materials like carbon fibre, nylon and epoxy have made boards and paddles stiffer and stronger than ever.
SUP boards for surfing are slightly smaller than flatwater boards, usually 9 feet or less in length and often narrower in the tail to allow for more responsive turns.
Many all-around boards will surf perfectly well, just with less manoeuvrability in the surf.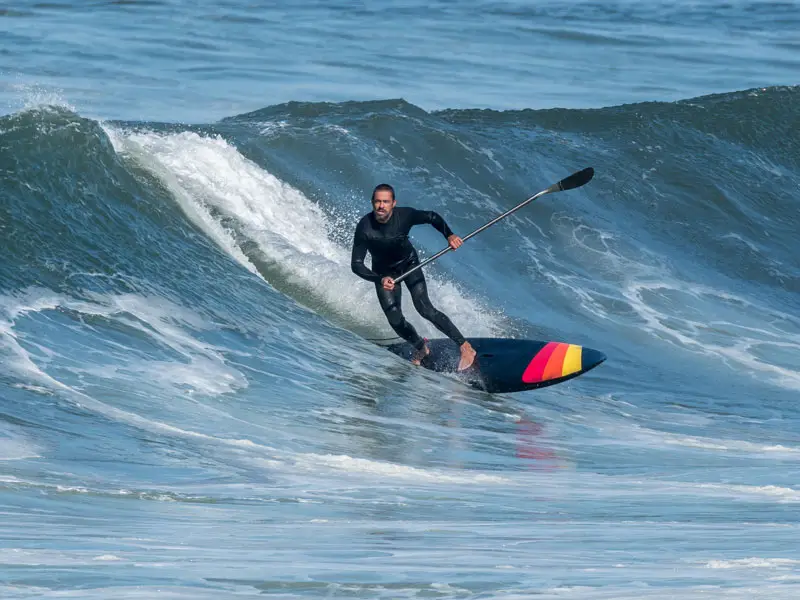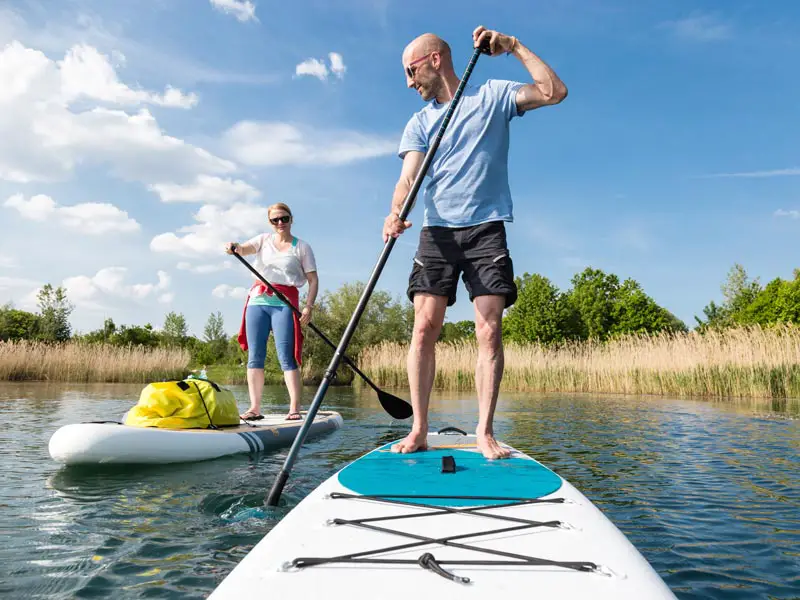 Flatwater Paddling – Cruising and Touring
Surfers soon realised that they didn't need to miss a day out on the water just because the sea was flat. Since then flatwater paddling has become the main driving force behind sports popularity explosion. Its easy uptake for beginners and low impact on the body has attracted millions of people from outside of traditional boardsport circles.
These days every well-equipped beach club, lake house and yacht has an all-around board or two available to use.
All-around boards are typically between 9'6 to 11 feet in length and slightly wider then Touring boards. The extra width makes them more stable and ideal for beginners.
Touring SUP boards generally range from 11 to 13 feet in length (depending on the rider's weight) and are narrower with a streamlined bow, making longer distances and higher speeds achievable. Most boards have deck nets that allow plenty of storage for longer expeditions.
Paddleboard Yoga
A recent phenomenon, the exact origin of when and where people first started using paddle boards as a platform for Yoga is unclear. Best only attempted on flat water, practicing poses on a floating board requires more balance and strength than the studio-based equivalent. Fans of SUP Yoga claim that the sounds and smells of the ocean are both soothing and energizing.  
Many major board manufacturers are now producing Yoga specific SUPs. They are wider and slightly thinner than all-around boards, making them more stable. Many models also have full length, padded deck pads and removable or soft deck carry handle.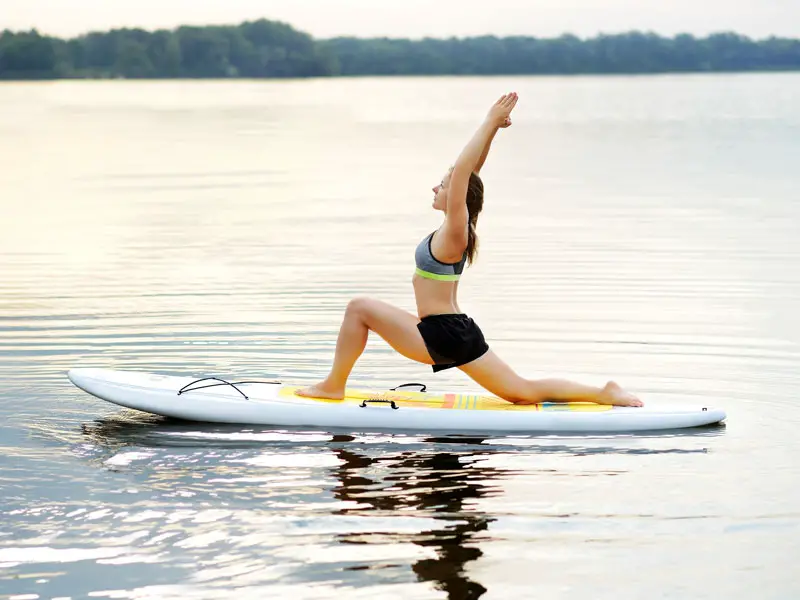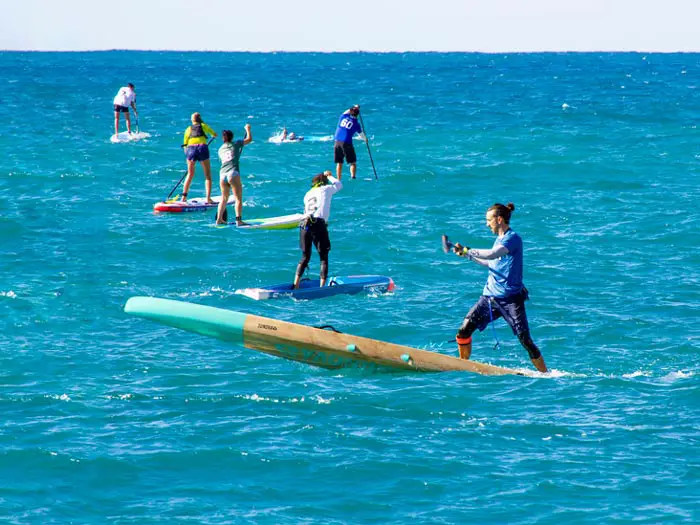 Stand Up Paddleboard Racing
Humans are naturally a competitive species, if it moves, someone will race it. With suitable watery race tracks all over the place, it wasn't long before people were competing against each other to be the best.
SUP racing is a more rigorous, adrenaline-filled sport than other types of flatwater paddling, and is a great way to meet other paddlers.
The most common size for racing boards is 12'6″ followed by the 14′ class. Narrower than most touring boards, racing boards are usually between 30″-26″ with 28″ generally accepted as a good balance between speed and stability. Both solid and inflatable boards are popular, with an advantage of inflatable being that it can be packed into a bag and flown in the hold with you to races.
Needing some more inspiration? Have a look at our blog for more helpful articles.