In ancient times, old civilizations designed and built boats for necessary purposes such as transportation of people, food, and animals from one island to another and fishing and hunting. After some research, I found out that it was the main form of travel meant to withstand strong Pacific waves and winds. Over time, I saw the design and purpose of these boats evolve. From sacred trees blessed by priests to glass-reinforced plastic, these boats became a form of entertainment and exercise through sports. While still used for small fishing, the modern era has revolutionized how they are built and utilized. Welcome to a cursory view of outrigger canoes.
What Is An Outrigger Canoe?
These canoes are basically a seagoing canoe that features an outgoing sponson, called an outrigger. These project on the sides of the hull. They are made with floats or shaped logs that are attached to the boat to prevent it from capsizing.
What is an outrigger canoe used for? It was a boat meant to be used for transportation. These relics of the past made their way to becoming a popular modern-day sport. In fact, it is Hawaii's official state team sport. However, they were originally necessary for the transport of food, water, animals, and people. The natives of Hawaii used them for fishing, a primary source of food.
The History of Outrigger Canoes
Known as the first true seagoing vessels, outrigger canoes can be traced as far back as 3000BC. The first one of these canoes was recorded 5000 years ago and was said to be of Austronesian origin. They were prevalent as the main means of transportation between islands and formed an integral part of the Austronesian heritage. In fact, this was the means that allowed for their expansion across the Pacific islands, from Taiwan to the Indian and Pacific Ocean.
These canoes were prevalent in New Zealand, Hawaii, and South East Asia islands, and I've also seen them used in the Philippines, Indonesia, and Malaysia. One of the oldest variants of this specific canoe was the Balangays found in Butuan, Philippines. These typical lashed-lug Austronesian boats date back as far as 320 CE.
I've heard them called in various names like Wangkang and Bangka and were made in different types. There were double-outrigger boats that were prevalent in South East Asia, as well as singles and catamarans. In fact, they were used as the main transportation of villages composed of several families, with their numbers reaching over 80.
These canoes appeared in Hawaii at approximately 200 AD, boarded by Austronesian, who realized that they had to design their boats to withstand the strong winds and waves in the area. The rough geography of the volcano-laden island compelled them to be innovative.
Eventually, they discovered the Koa trees and realized that they were perfect materials for durable and reliable the canoes. Perhaps what made it easier is that they could carve out a hull from a single tree.
Modern Canoes
The modern canoes are centuries in the making. They are no longer made out of wood like the Koa tree canoes used to be prevalent in the 18th-century bays of Hawaii. Today, they come with a glass-reinforced plastic design and are used for sports and little fishing. In fact, canoeing is the state's official team sport.
But if you visit South East Asia, these special canoes remain part of the main transportation forms in certain islands. For example, they're still used in the Philippines for short transport of people, animals, food, and other cargo between islands.
They are also popular forms of transportation for island hopping in Cebu, Boracay, Palawan, and other parts of the country. Their main distinction is that other than oars—which are rarely used—these canoes have been mounted with motors, allowing them to withstand strong waves and move across the water with ease and speed.
Racing
What is outrigger canoe racing? It is a racing sport that is most popular in Hawaii. The most common competitive racing involves the OC6, which features the six-paddler single-hull outriggers. The single-paddler, OC1, is also quite popular.
Molokaʻi Hoe is an all-men canoe race covering 69 kilometres between Molo between Oahu's islands. This annual canoe race is one of Hawaii's biggest sporting events. The very first official race of this kind was held in 1952, which boasted a hefty $500 prize. The Molokai iron men triumphed through bad weather, and guess what they asked for when they finally got to rest? Milk.
There's a women's version of the race called Na Wahine O Ke Kai. This was later officially held in 1979 after its organizers' rigorous efforts—although the first women's race was actually held in 1954, 2 years after the first Molokaʻi Hoe. Unfortunately, it took some time to set up an official race because the male coaches and officials were fearful of the treacherous route.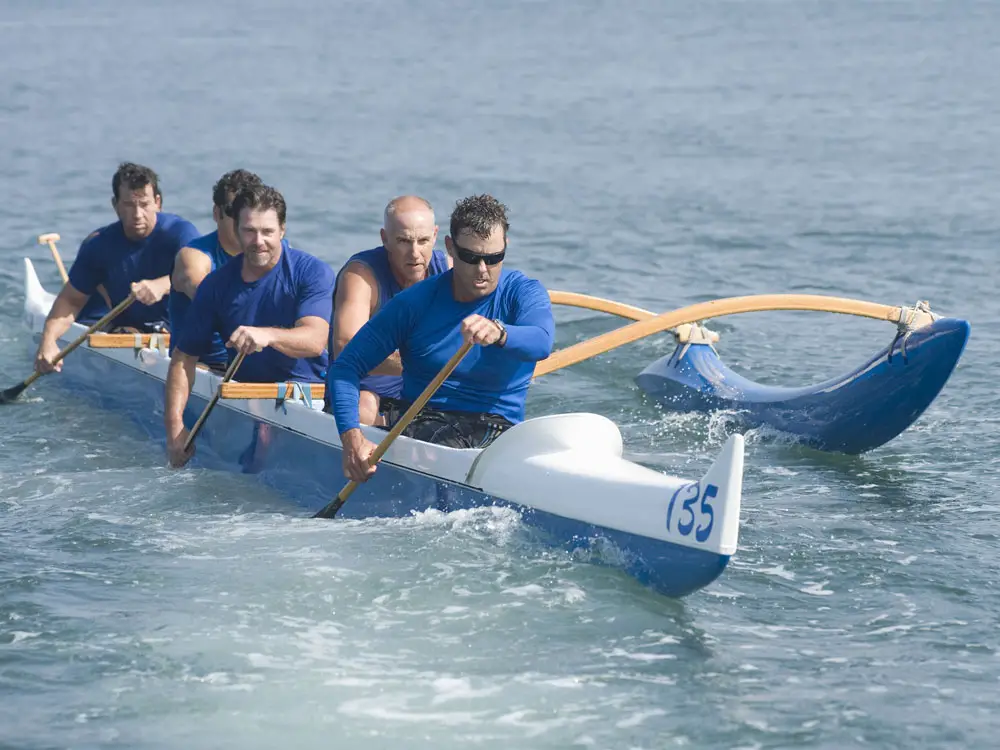 The Benefits of Outrigger Canoeing
Are you a sports enthusiast? Do you enjoy the outdoors? Are you fond of the ocean? The chances are that canoeing is for you. Personally, I think it's not only an enjoyable sport, but it's a very insightful activity, too. It teaches you valuable skills for fishing and survival. Most importantly, it teaches crew members the essentials of teamwork.
As an exercise, canoeing is an excellent physical exertion that is sure to give you the adrenaline rush. It's a fun activity that will help you control your weight, regulate blood sugar and insulin levels, and cuts down your risk of heart diseases.
Not only does canoeing help strengthen your bones and muscles, but it also keeps your mind alert. It helps you think, learn, and make sharp judgment skills.
You can paddle with an actual crew of 6 members or just enjoy a day in the ocean with family and friends. Canoeing will improve your mood and general mental health. It's a great way to socialize, too!
These canoes are far from being relics of the past. It has survived the test of time and purpose and continues to be relevant and popular to this day. Have you seen an outrigger canoe? Would you like to try paddling in one? For sure, it's one thing you're going to enjoy.