Keanu Reeves had the support of Patrick Swayze to master surfing in Point Break. You, however, may feel lost in the mystery of SUP pricing without professional help. So, why are paddle boards so expensive? The truth is that the complex construction methods and expensive materials add up to the cost of SUPs.
Fortunately, you just need a reliable and robust paddleboard to practice paddle boarding. After that, there are almost no additional running costs. In fact, the next time you see a high price tag on a paddleboard, think of it as an investment to realize your full potential and revel in the beauty of nature without disturbance.
If you're ready to get a paddleboard, the answer might not be as black and white. In fact, there are a few considerations and information that you should be aware of to make the right purchase decision.
Let's take a look at the cost-structure, considerations, reasons, and maintenance of paddleboards:
How Much Do Paddle Boards Cost?
Any inflatable paddle board under $400 is considered cheap, suspiciously cheap… Inflatable SUPs between $400 – $600 can be considered budget boards, mid-range is between $600-$1000 and anything over that is the high end. Generally inflatable paddle boards top out in the region of $1700. Hard boards are generally more expensive with the world record being $27000, albeit at a charity auction.
The last thing you want to get is a cheap $200 iSUP that will slow down your learning process and lead to frustration. On average, inflatable paddleboards that range from $500 to $1000 offer a much better value and experience.
In a practical sense, you can use a reliable and well-built paddleboard for years. With a cheap SUP, however, there's always a chance that you may break it during practice. Remember not to fall down the rabbit hole of the cost when it comes to paddleboards.
The high price boils down to construction and build-quality. Plus, size and shape are also two essential factors that contribute to the high price. Mostly, some materials are highly expensive and increase the overall price of the paddleboards.
When Is The Best Time To Buy A Paddle Board?
Stand up paddle boarding is most popular in the summer so most people buy their boards when the weather warms up, around April – August. However, this isn't the cheapest time to buy.
If you want to get a good deal then you should look in the Black Friday sales. Manufacturers don't want to be stuck storing last year's model over the winter, so it can be a great time to get your hands on an expensive paddle board for a low price.
Although if you haven't got a board yet and summer is fast approaching, don't wait! It is better to pay a little more for a paddle board than not to have one at all. A springtime rush often impacts supply, and stand up paddle boarding is more popular than ever!
Inflatable Paddle boards Vs. Hard Paddle boards: What's the Difference?
Inflatable paddle boards can be deflated and rolled away, a hard paddle board can't.
The manufacturing process of inflatable paddle boards involves layers of PVC and woven fibers that interconnect at the bottom and top points of a paddleboard. The high pressure and rigidity of inflatable paddle boards are what separates them from cheap inflatable devices.
On the other hand, hard paddle boards have a solid built-in board of EPS foam and are covered with wood, plastics, or fiberglass material, and usually use a hard epoxy resin coat for protection.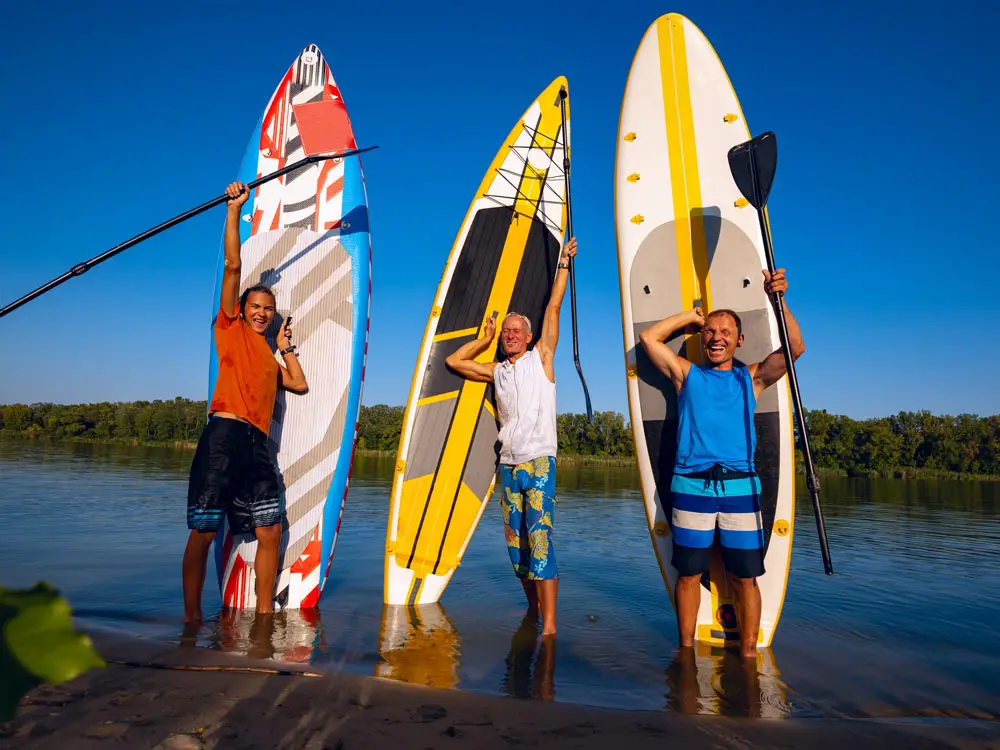 Top Factors That Make Paddle Boards So Expensive
Construction
It takes expensive material and sophisticated modern technology to make a reliable paddleboard. With more expensive materials and technology come more expensive paddleboards. And cheap inflatable paddle boards cut corners that make them more inexpensive.
For instance, fine-tuning of construction material and production tactics takes time and money. At the start of the construction process, the designers focus on research and development. The idea is to make paddle boards more durable and robust.
It takes experience and professional construction experience to get the optimal weight, flex, and performance out of a paddleboard. Premium paddle boards are expensive because they're built to last for a long time and can withstand peeling and cracking.
Design
As mentioned earlier, most brands conduct an in-depth R&D of paddleboards. The design elements play an essential role in the high prices of the paddleboards. For instance, top shapers improve the visual quality of the paddleboard without affecting its performance and durability on the water.
The research turns into experimentation, and then experiments turn to fine-tuning. Ultimately, designers and engineers refine the paddleboard for ultra-performance and durability. Throughout the design and construction process, the experts manipulate various design shapes with precision.
Size
Paddleboards are much bigger than your average surfboard. On average, a paddleboard is around 10 feet long, 32 inches wide, and at least 5 inches thick. If you're planning to get a bigger paddleboard for more room, don't forget that it will be more expensive. The bigger the size, the more materials the manufacturing process will use.
Production Cost
When it comes to paddleboards, you get what you pay for – nothing more, nothing less. Manufacturers who make cheap paddleboards always try to cut corners to bring down the production cost and make inferior products. The low prices of cheap paddleboards come across as too good to be true and should represent a red flag for potential buyers.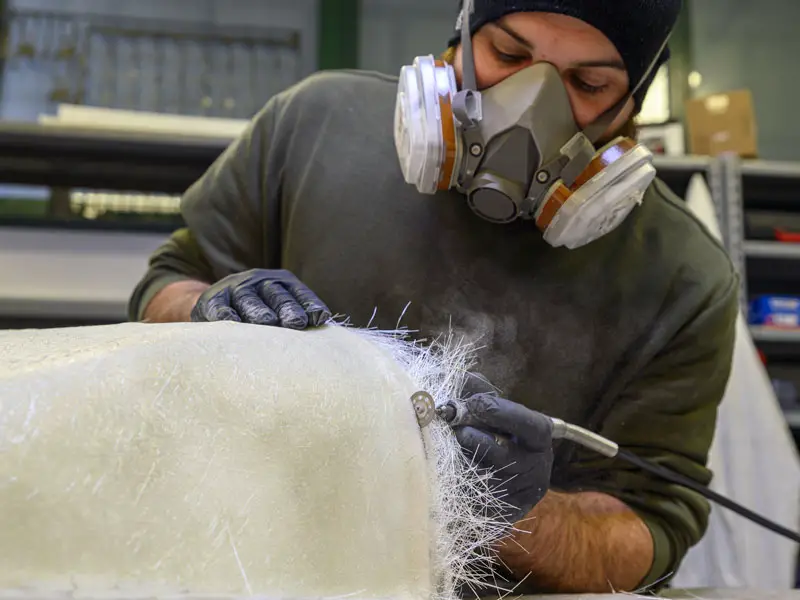 The Most Expensive Materials Of Paddle Boards
Hard Boards
Most hard boards are made from an EPS (expanded polystyrene) foam core, and covered with glass fiber, carbon composites or wood/bamboo and sealed with epoxy resin.
You'd be surprised how much epoxy resin and EPS foam core can increase the cost of a paddleboard. However, EPS foam is essential to make paddle boards lighter, stronger, and flexible. However, you cannot use EPS foam without bringing epoxy resin into the mix.
It is the use of epoxy resin, carbon fiber cloth, or fiberglass that makes up the majority of the material cost. However, it's these materials that give hard boards their premium and strong look. It also makes the paddleboard lighter and renders the best results. The manufacturing process is laborious and largely done by hand, so labor costs are a significant factor in the price.
Another contributing factor to the cost of hard boards is storage and shipping. They are bulkier than iSUPS and more prone to being damaged in transit. Most of the boards are made in Asia so these factors contribute to making a more expensive paddle board.
Inflatable Boards
Manufacturers mostly use PVC for the construction of inflatable paddle boards, using high precision cutting technology to get the correct shapes. Because inflatable paddle boards are pumped up to such high pressure, the material is laminated and uses heat-based seams to prevent any air from escaping. Extra cost goes into rocker design, high-pressure valves, fin boxes, and drop-stitching.
What is drop-stitching?
Contrary to misguided perception, there's more than just air in an inflatable paddleboard. It includes drop-stitching that ties together every centimeter of the inflatable paddle board via threads.  In fact, without drop-stitching, inflatable boards would look like a balloon.
Interestingly, the quality of the drop-stitching can decrease or increase the durability of a paddleboard. A premium paddleboard doesn't have a single-layered drop-stitch. Instead, it uses linear and woven drop-stitch advanced technology. If the drop-stitching fails, the board can develop bulges in the deck.
The Curse of the Cheap SUPs
First, cheap SUPs have little to no resale value because they don't last long. Second, cheap SUPs use inexpensive material that makes them less durable. Inflatable paddle boards rely on air pressure for rigidity and cheaply made SUPs simply can't handle high enough presure. Once you use a premium paddleboard, you will never go back to the substandard performance of cheap SUPs.
Paddle Boards: Quality is EVERYTHING
You see a lot of cheap paddle boards for sale online or in Walmart and Costco, they are often made from sub-standard materials and have less rigorous checks.  Also, beware of the copycats that look like expensive and premium paddleboards but are cheap ones in disguise.
Unlike cheap paddleboards, premium paddleboards don't easily wear down. Not to mention cheap paddleboards have nowhere near the performance, features, functions, preciseness, durability, and construction quality of the premium-grade paddle boards that offer the best experience on the water.
Choose a Reputable Brand
Some manufacturers are better than others, it's as simple as that. Many of the leading SUP brands offer long manufacturer warranties, often as much as two years from purchase. I have heard many horror stories of knock-off brands breaking on the first or second use, and shady companies shirking their responsibility to replace them. It's always worth reading up on a company before you buy from them, particularly about their customer service.
Quick and Clean: Maintenance of Paddle Boards
It doesn't take much to maintain your inflatable paddle board clean and soft. Just make sure to wash your paddleboard with water to get rid of dirt and salt after each use. You may not want to hit the open waters every day, but whenever you do, take a few minutes to rinse the inflatable paddleboard with fresh water.
You can, of course, take a page from experienced paddleboarders and make it a habit to maintain the performance and durability of your paddleboard. It would help you preserve the original aesthetic quality of your paddleboard and prevent damage in the foreseeable future.
Winter means less frequent paddleboard sessions on the water, and that means minimal maintenance. In spring and summer, however, you should clean the paddleboard with clean water to get the most performance and experience on the water. If you are not using your board, make sure you store it properly.
In any case, no matter how much dirt, sand, and saltwater you encounter, rinse your paddleboard with water. You can use a mild soap or light detergent with warm water to make a quick mixture to clean your paddleboard.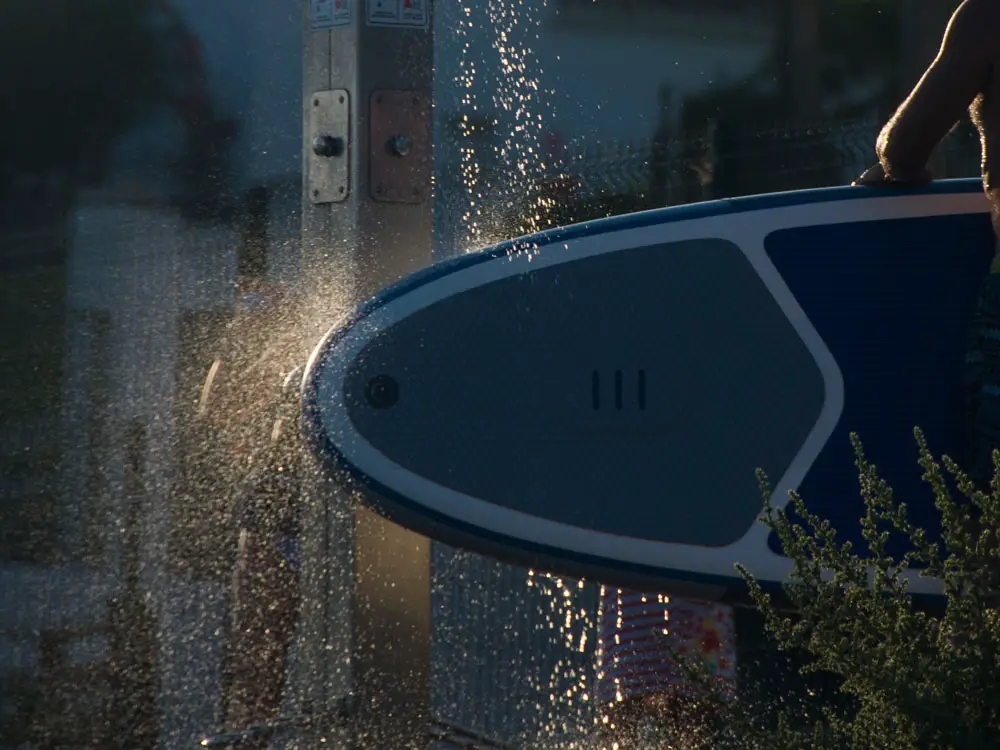 You can also use household oil to lubricate any metal components, such as the fin screw on the paddle board. It's the best way to avoid corrosion and rust.  The trick, however, is to do this at the start and end of each season.
Ask an old-time user of SUPs, and you'll find out how much of a great investment it is for enthusiasts who want to start paddling. The continuous exposure to sunlight and saltwater can decrease the lifespan of any paddle board. It makes all the more reason to keep your paddleboard in good shape and use it in any season of the year.
Conclusion: Why Are Paddle Boards So Expensive
A decent board may initially be a large cost, but with the right care you should get hundreds of uses from it AND still have resale value when you come to upgrade.
With each passing year, there is a higher demand for paddleboards, and that means more production.  However, it takes a lot of research, development, and testing to start the construction process for manufacturers. So, don't be surprised if you notice even higher demand and buzz around paddleboards in the coming months.
Once you understand the construction and material cost, the price range of paddleboards will make more sense. In retrospect, it would be fair to say that the high price point of paddleboards complements the joyful learning experience for millions of people.