We've all seen paddle boarders gliding serenely over the surface of the water, whether it be in a lake, at the beach, or a river. At first glance, this may look like it requires the kind of poise and control that takes years to acquire. However, with a little bit of practice, you can be out there and paddle boarding with the best of them in hardly any time at all!
How Hard Is stand Up Paddle Boarding? The answer is not very. While it may take some practice or use some muscles that may not always get lots of use, stand up paddleboarding is pretty easy to learn. With just a little bit of training, you'll be able to enjoy the many physical and mental health benefits that paddle boarding can provide, which means that you'll be able to spend less time worrying about the difficulty and more time getting out on the water.
Paddleboarding Beginner Tips
Paddle with your core. 
It may seem counterintuitive, but paddle boarding's primary movement comes from the core, not from the arms. Try to avoid standing overly straight or rigid, as this will transfer a lot of strain to your arms, shoulders, and back. As a result, you'll get tired far more quickly. You'll also be far more likely to injure your upper body. Just relax, lean into each stroke, and focus on engaging your core muscles to prove the power that you'll need to cut through the waves (or the still water) around you!
Keep your eyes up. 
When you're first starting out, it may be tempting to keep your gaze on the water or on your feet. While this may help you get a better idea of your stance, it also significantly increases your risk of toppling over! Try to keep your gaze on the horizon, with your weight shifted forward to rest on your toes. This will give you a steadier stance and a more stable approach to any body of water. As you build your confidence, this stance will begin to feel less awkward and more like second nature.
Don't be afraid to fall. 
More accurately, be prepared to fall and learn how to fall the "right" way. Practice falling away from your board and focus on really clearing the area around your board with your fall. The idea here is to basically take the fear out of falling. When you are first finding your feet, you are almost guaranteed to fall off your board a couple of times. Once your brain understands that a fall into the water isn't really going to hurt you, you'll be able to relax and feel more confident on your board. Without that natural fear to hold you back, you'll be able to push yourself further to explore your new opportunities.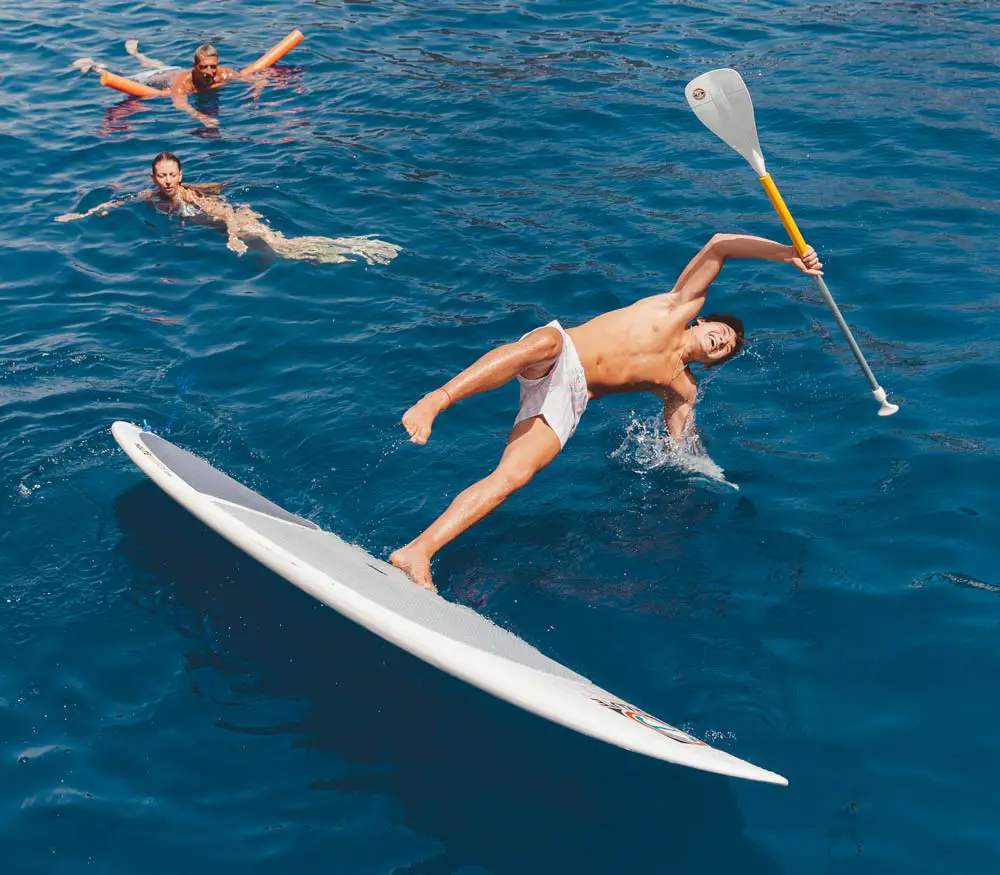 Give yourself the tools you'll need to succeed! 
Is stand up paddle boarding hard? Not really, but a lot of it comes down to the tools you use to give yourself the best chance at success. Make sure you have a paddle that fits your size. Use a board that you're comfortable with or spend time getting familiar with the board before tackling the open water. No matter your skill level, make sure you've got a good, high-quality leash to connect yourself to your board. The equipment you use will help you feel at ease out there. Don't forget that in most cases, a PFD or life jacket is a legal requirement.
Start small. 
If you find yourself asking how do I know when I'm ready?—don't worry! There is absolutely no shame in starting with short trips, close to shore, and working your way up from there! The open water can be intimidating no matter how long you've been paddle boarding. If, at any point, you find yourself growing uncomfortable with the waves you're tackling, go back to safer waters. You'll feel more confident, and you'll be less likely to panic and make an avoidable mistake.
Getting on the Board for Your First Time
Once you have all the correct gear, it is time to learn how to paddle board. Standing up for the first time can be tricky, here are our tips to make it easier:
Learn In Calm Waters
Calm waters are vital for the first time. In particular, they make standing up much easier. It isn't that starting in choppy waters is impossible. Nevertheless, you are only further frustrating your attempts. By choosing a calm spot, you can find your center without too much of a battle. 
Check For Rocks
You are almost certainly going to fall off your board on the first few attempts. With this in mind, you don't want to land on any rocks or sharp coral. Choose somewhere clear of obstacles and at least waist-deep water before you try and stand up. An ideal spot would be off a sandy beach.
Stay In The Center Of Your Board
There are many different stances you can use on the board, but as a beginner, you should stick to the center. There will almost always be something making the midpoint, usually a carry handle. Stand over this with your feet about shoulder-width apart and you will find it easier to balance.
Steps to Standing Up On A Paddle Board
Start by sitting on the board with your paddle in your hand.
Pull your legs under you, facing forwards on the board.
Sit up on your knees.
Begin paddling and find your balance.
After you are balanced, stand up with your feet spaced shoulder-distance apart in the center of the board.
Keep your core tight and knees slightly bent while trying to stay balanced.
Using your arms reach out with your paddle, and like you are doing an abdominal crunch, pull the paddle back to center using your core. Now you're paddling!
There Is No Shame In Getting On Your Knees
If you are struggling to stay standing on the board, drop back to your knees. It takes time to build up core strength and stamina, and just standing up on your paddle board can be a full body workout. Repetitive falling can be frustrating, and paddle boarding should be fun.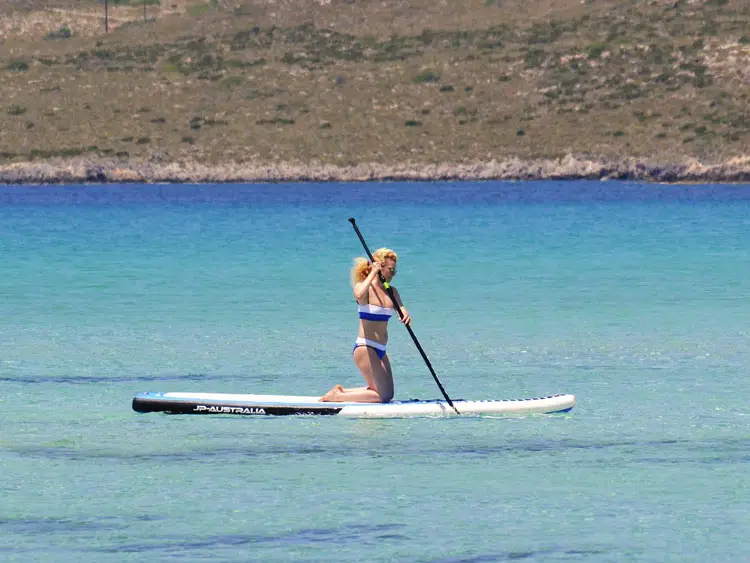 The Benefits Of Stand-Up Paddle Boarding
Stability. 
You may have already guessed this from the "core" comments above, but regular paddle boarding can greatly improve your balance and stability. If you want to strengthen some of the most crucial muscle groups in your body, you can get a head start on keeping trim by paddle boarding at every given opportunity. Each paddle stroke is like a quick crunch without all of the stress that usually comes with a high-intensity workout. This is also why it's so important to make sure that each stroke really pulls its force from your core instead of from your arms.
Want to know more about the muscles used in paddle boarding? Check out our What Muscles Does Paddle Boarding Work
Overall Physical Fitness. 
While your stomach and core muscles tend to get the most attention in most paddle boarding reviews, stand up paddle boarding can tighten and hone muscles groups throughout your body! Your legs will get a workout from bracing you and providing some of the stability you need on each pull, and your arms will get a pretty good workout as well! Because paddle boarding is a low impact, full body workout that doesn't require high-intensity training, it's a great way to improve heart health and boost overall fitness without putting too much strain on your body.
Mental Health. 
Most of us have seen the studies on how being near water can help calm the mind. Obviously, paddle boarding is not a one-size-fits-all solution to every mental health issue. However, the repetitive physical motion combined with the naturally calming impact of the scenery can reduce stress levels and soothe anxiety. 
Again, this doesn't mean that paddle boarding will solve any problem, but it can help you shore up your mental health so that you're better prepared to face whatever life throws your way in the coming year. This same stress reduction actually links back to physical health, as it can lower your risk of serious heart diseases and circulatory conditions.
Plenty of Good Vitamins. 
This sort of ties into one of the earlier benefits, but the fact remains that most of us don't get enough Vitamin D in our daily lives. A regular paddle boarding routine can help you get out under the sun for hours at a time! If you suffer from fatigue, chronic pain, bone weakness, or some forms of depression, naturally-derived Vitamin D can help you alleviate some of these symptoms.
As with any outdoor sport, make sure that you're wearing plenty of sun protection. While you may not be able to get that golden tan you've always wanted, you'll be able to get the benefits of sunlight exposure without the increased risk of skin disease.
Join A Community. 
Finally, a regular paddle boarding routine can put you in contact with a lot of friendly, open people who share the same outdoors-y interests and will be more than thrilled to help you build up both your confidence and your paddle boarding skills! Look on local message boards and groups to find active paddleboarders in your area.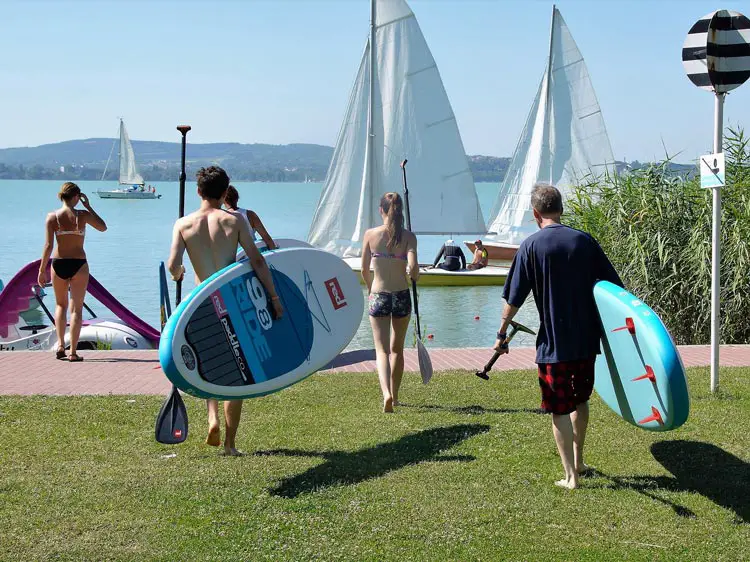 Things to Watch Out For
So, now that we have established that paddle boarding is good for the body and mind, you need to make sure that you are learning safely. Here are a few basic beginners tips to make sure you are using your stand up paddle board safely.
If you notice an unusual amount of strain in your arms, back, or shoulders, try adopting a different posture or changing your paddle length before you put your paddleboarding plans on hold. If pain continues, check with your doctor and look for new ways to try and hone your technique without improperly straining the muscle groups.

Especially when you're just starting out, considering learning with a friend. As a rule, you should always make sure that someone knows where you are, especially if you're planning on paddle boarding in the open ocean. No matter how small the waves you're tackling are, there is always a risk that things could go wrong, and it's always a good idea to have someone there to watch your back.

Finally, check the local weather before you head out on any paddleboarding trips. The weather can change at any time, and you may find yourself in stronger wind and choppier waters than you were expecting, so it's best to be extra prepared! I find Windy to be one of the best free weather forecasts, but it's always a good idea to check more than one forecast.
For a full list of safety tips, see our article Is Paddle Boarding Dangerous?
Conclusion: How Hard Is Stand Up Paddle Boarding?
No matter if you're an old pro at being out on the water or if you're just getting started in the world of stand up paddle boarding, your first few tries can feel a little bit scary. Fortunately, paddle boarding isn't anywhere near as difficult to learn as it may appear to be at first glance.
The benefits of paddle boarding far outweigh the initial difficulties that go along with starting any new sport. Regular paddle boarding hones various muscle groups, improves overall physical and mental health, and provides a great way to take a break from the hectic schedule that most of us keep. No matter what skill level you're at, you'll find yourself looking for every opportunity to get away for a quick paddle boarding session.
Trying new things can always be intimidating, but fortunately, paddle boarding is one of those rare sports that looks a lot more difficult than it actually is!