The British polar explorer, Sir Ranulph Fiennes said, "There's no such thing as bad weather, only inappropriate clothing." The same applies on the water, but you need to know what to wear stand up paddle boarding.

Wearing the wrong attire, rain, and gusty winds making you cold and miserable are among the few things that can destroy your boarding experience. Before venturing out on your board, you must prepare yourself with the right clothes to ensure you are comfortable and safe.
The best part of paddleboarding is that you can do it during any season. However, during the winter season, it can be frigid, but its uniqueness makes it a memorable experience.
This article should hopefully give you a better understanding of your clothing options when paddle boarding throughout the seasons.
The Most Vital Thing to Wear during Standup Paddle Boarding
When paddleboarding, you must wear a USCG-approved jacket and a leash. The US government recognizes paddleboards as vessels; thus, you must wear a USCG-approved jacket while paddleboarding. The only time you are not required to wear one is when you are SUP surfing or paddling in designated swimming areas.
Apart from the life jacket, it is highly advised you wear your paddle board leash, so you never become separated from your board.
What to Wear Stand up Paddle Boarding During Summer
Stand up paddle boarding is more popular in summer, and for most people, the usual paddle boarding attire is bikinis and board shorts. The warm water and air temperatures make falling in the water fun and you quickly dry off naturally. And although this is ideal for short paddles and playing around, if you are planning on spending a long time on your board or attempting a sizable coastal or river excursion, you will need some extras.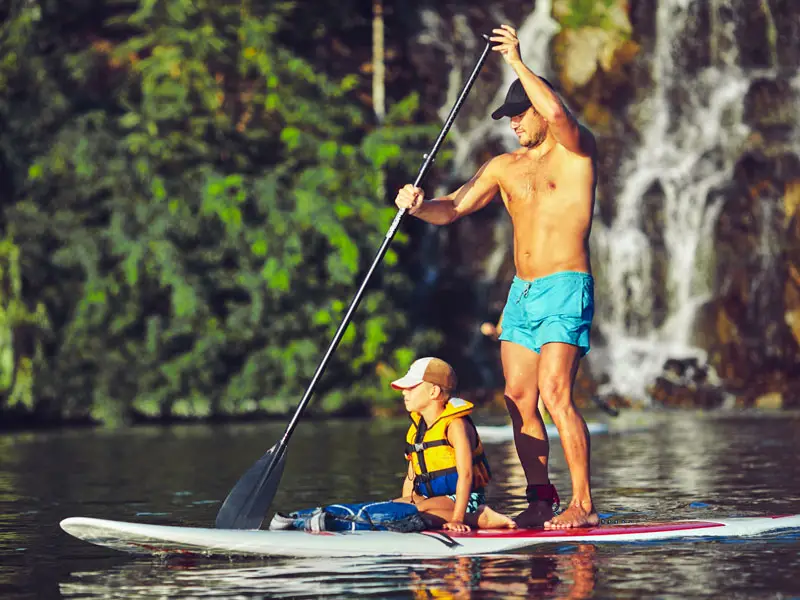 Sunscreen: The harsh UV rays are among the greatest risks when paddle boarding in the summer and need to be taken seriously. Sunburn hurts, it prematurely ages and wrinkles your skin, and significantly increases your chance of developing skin cancers in the future. Obviously, it's best to choose a waterproof sunscreen, but you may also want to check if your sunscreen is safe for coral reefs. With the Pacific nation of Palau recently banning some types of sunscreen, it is likely others will follow soon.


Rash vests: Either long or sleeved, these breathable, quick-drying lycra tops were originally designed to stop wetsuits rubbing on surfboards, causing a rash – hence the name. They offer great sun protection that doesn't wash off and provide a little extra insulation but still allow you to stay cool in the midday sun.


Hat and sunglasses: Again, they help your most valuable assets, your face and eyes, from harmful UV rays. You may be surprised to know that your eyes can get sunburnt, ouch! It is particularly a risk around reflective surfaces such as on the water or snow. If you don't want to lose your glasses, consider a floating pair or use a strap, and polarized lenses reduce glare and allow you to see dangers beneath the water better.


Summer wetsuits: If you will be spending a lot of time in the water, like in SUP surfing, you may want to invest in a light wetsuit. Summer wetsuits are usually 3/2, meaning they are 2mm in the legs and arms and 3mm in the body. This enables you to stay at a steady temperature while remaining relatively unrestricted in movement.


Shoes: While most people go barefoot in summer, if you need to walk over any sharp or rough ground, something on your feet can be a real lifesaver. You can use any old pair of sneakers or opt for something purpose-built like water shoes. The main advantage of water shoes is that they hold less water, dry much quicker, and stink a lot less.


A dry change of clothes: For when you have finished for the day. No one likes getting in the car all soaking wet. Have a pair of comfortable leggings and a top for when you have finished. You can either leave them in your car if that's where you are returning or pack them in a drybag and carry it with you on your board.

What To Wear Paddle Boarding In The Spring And Fall

Reduced water traffic and the changing colors make spring and fall some of the best times to paddle board. However, the weather and temperatures aren't as stable as summer or winter. Sunny spring days can hide frigid waters and changeable weather brings unexpected showers. With there being a much greater range of conditions you inevitably need more adaptability with your clothing choices. Layering is the key here! A wetsuit is great if you are submerged in water, but won't be enough to keep you warm in a cold wind.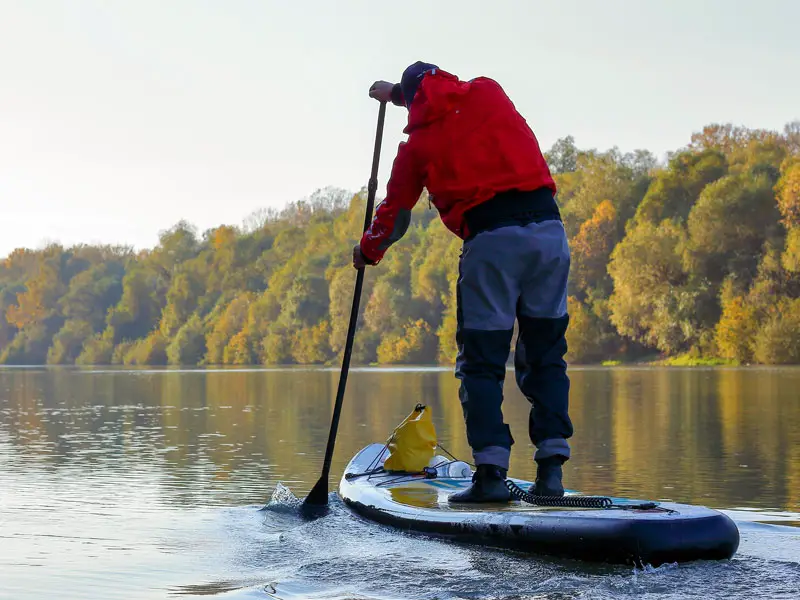 Wetsuit Base Layer (Optional): Although you may not be planning to go for a dip, sometimes you don't have much choice. Having a wetsuit on underneath your clothing will reduce the shock from cold water if you fall in. A full suit isn't necessary. Popular with kayakers, a john/jane style sleeveless wetsuit allows for unrestricted arm movement while still providing insulation to the torso. Don't be tempted to go too thick for your base layer; 2-3mm is enough, it is only to provide some warmth if you fall in. too much and you will start sweating.

Lightweight Base Layers: Wear a lightweight synthetic fiber such as polyester or nylon that easily allows moisture to wick away. Many people wear a rash vest covered by a light fleece. The trick is to remove a layer once you have warmed up.

Waterproof shell: Whatever you choose to wear underneath, a sudden shower and cold wind are going to leave you feeling pretty miserable. Keep a light waterproof jacket and leggings packed in your dry bag so you can quickly put them on in case the weather suddenly takes a turn for the worse.

Waterproof or Wetsuit Boots: If the water or air is cold, bare feet will soon feel like little blocks of ice. You can either keep the water off your feet completely or wear some neoprene wetsuit style boots. The advantage of wetsuit boots is that they won't get as heavy as waterproof ones if you fall in the water. Split toe boots such as the O'Neill Heat 3mm Split Toe Boot are better for stand up paddle boarding, giving better grip and balance than rounded boots or shoes.

Paddle Boarding In Winter
Winter paddling is all about staying warm. Entering cold water without the correct kit can be seriously dangerous. Because of this, it is usually only the most diehard paddlers and SUP surfers out on the water in winter.
You can either use a drysuit or a winter wetsuit, neither of which are particularly cheap, but they are necessary. Dressing up in a winter jacket like you are on land is a no-no, if you fall in your clothes will become soaked and heavy, potentially putting you in a dangerous situation.

Getting Wet
Winter Wetsuit: These are thicker than your summer style, ranging from 4-7mm. A thicker suit will be warmer, but there is a trade-off in flexibility. Wetsuits are best if you are expecting to spend a lot of your time in the water and are favored by surfers. However, once wet, they don't provide as much protection from the cold air.

Thermal rash vest: Not only will it stop rubbing and chafing under your wetsuit, but A thermal rash vest will also provide a little extra insulation.

Neoprene Hood: A thick neoprene hood is vital to keep your head and ears warm. An incredible amount of heat is lost out of your head, and cold water can give you brain freeze, just like eating ice cream.

Gloves: In winter your extremities will be the first to get cold. Without gloves, you may find it difficult to hold your paddle. Get a pair that still allows you to grip your paddle properly.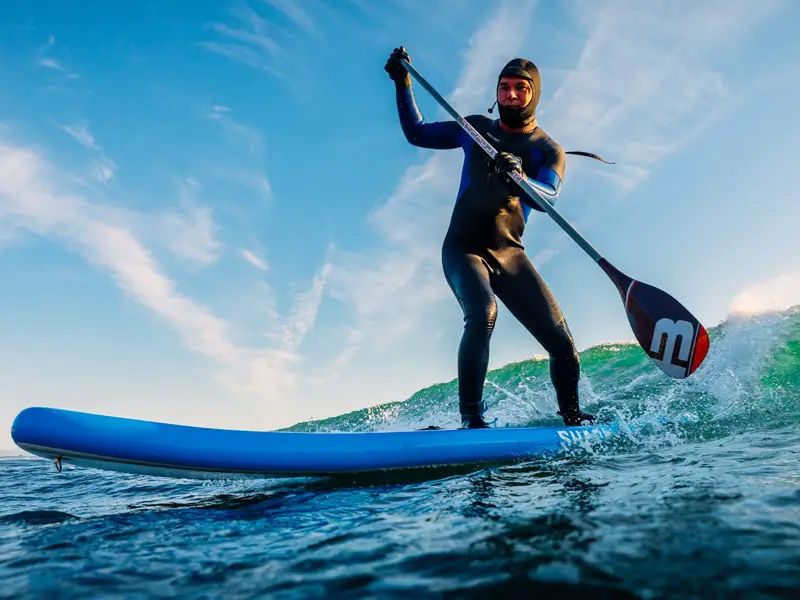 Staying Dry
Drysuit or Immersion Suit: As the name suggests, drysuits are designed to keep you completely dry. They have waterproof seals on the wrists, neck, and feet, or some come with integrated boots. They have little in the way of insulation, so base layers are a necessity. One disadvantage of drysuits is the lack of breathability, which is a result of waterproofness. Drysuits are a must-have if you are paddling in icy, almost freezing waters.
There are now some companies making paddle board specific drysuits. They aren't particularly cheap, but hopefully, the costs should come down in the coming years as manufacturing increases.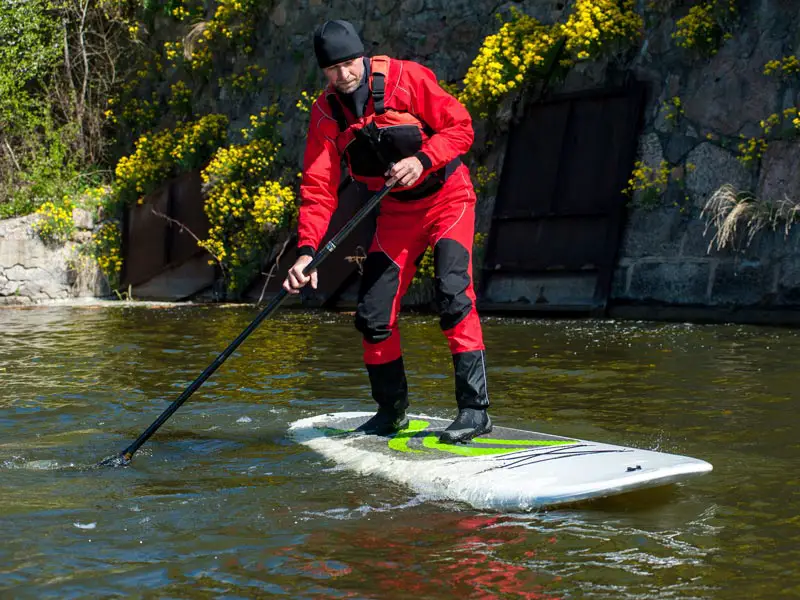 Some Extra Must-Haves
Apart from the safety kit like your life jacket and leash, you may want to consider bringing the following with you paddle boarding:
A decent drybag to keep valuables, car keys, and clothes safe

A changing robe, for changing out of your wetsuit in cold conditions

Towels to dry you and your equipment

Some snacks and drinks, for energy and hydration
Final thoughts
Whatever season you are paddling in, you must ensure that you plan adequately for any worst-case scenarios and having the correct gear is part of that. Make sure that your friends or family members know your whereabouts regardless of the weather. Ensure that you have something to drink, eat a communication method, and a warm clothing change. Check out our article on the dangers of paddle boarding and how to stay safe.
Get out there, paddle, and have fun.